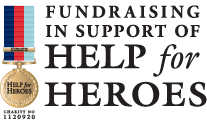 Keltruck and Help For Heroes
Keltruck, the largest independent Scania dealer in Europe, has chosen Help for Heroes (H4H) as its nominated charity that it will be supporting in 2014.
H4H's aim is to inspire our wounded, injured and sick and returning veterans to lead active, independent and fulfilling lives so that they fulfil their potential, and be there for them and their families for life.
Keltruck will be organising activities throughout 2014 to raise money for H4H, including this Wimbledon auction, cake sales, barbecues and open days. H4H will also be attending all of Keltruck's events in the year, including Truckfest Malvern and the All Wales Show.
Bryn Parry OBE, CEO and Co-Founder of Help for Heroes, said, "Help for Heroes is all about 'doing your bit' and Keltruck's support and fundraising efforts are deeply appreciated. The money raised is greatly needed; soldiers, sailors and airmen who are injured today will still need our support in the future. They are still battling and we won't let them battle alone. On behalf of everyone at Help for Heroes and all those who the money will benefit, I would like to say thank you!"
Andrew Jamieson, managing director at Keltruck, said, "We were first introduced to Help for Heroes via our former employee Michael Leeming, who served as a military helicopter pilot alongside Bryn Parry, the charity's co-founder.
"Having met a few of the injured servicemen and women, you can't help but be impressed by what they have achieved, and humbled at what they have overcome," says Jamieson. "We have been working with H4H since 2011, and I personally would like to see the association continue for many years."
Keltruck has a long history of charity work, including supporting local children's charities, the Royal British Legion poppy appeal and the National Society for Epilepsy.